---
Leningrad geometric school is an area of modern geometry. The main characteristic of this school is the crossing of the frontiers of differential geometry. "Back to Euclid!" General metric spaces were used in 1930s-1960s for solving problems that were unsolved in classic theory of convex surfaces, and then in theory of Riemannian manifolds. Geometry "in the Large" and theory of generalized Riemannian spaces were constructed in the 1950s-1980s.

The school was created by a famous Russian mathematician Alexander Danilovich Alexandrov.
Contents
---
Alexandrov's Biography
August 4, 1912 - July 27, 1999
---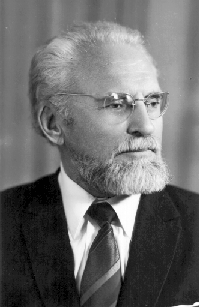 A.D. Alexandrov. 1972
A.D. Alexandrov was born on August 4, 1912, in the Volyn' village of the Ryazan' region. His parents were the school teachers. In 1929 he became a student of the Physics Department of Leningrad State University (USSR), from which he graduated in 1933. Then:
1935 - Ph.D. in Physics & Mathematics,
1937 - D.Sci. in Physics & Mathematics,
1942 - Stalin prize for solution of the Herman Weyl problem,
1946 - elected a Corresponding Member of the Academy Science of the USSR,
1951 - Lobachevsky prize for geometric results,
1952-1964 - the President (Rector) of Leningrad University,
1964 - elected a Full Member of the Academy Science of the USSR,
1965-1986 - Head of the Chair of geometry & topology at Novosibirsk University,
1986-1999 -Head of the Laboratory of Geometry in the St. Peterburg Branch of the Steklov Mathematical Institute of the Russian Academy of Science.
A.D. Alexandrov was a member of the Communist Party of USSR since 1951, and he is a supporter of Socialism in modern Russia. Among his pupils were members of the Communist Party and differently-minded persons (for example, his pupil Revolt I. Pimenov). A.D. Alexandrov as Rector of Leningrad State University offered a position to a former prisoner Lev Gumilev (a famous Russian historian). Twice he visited Vadim Delone (Delaunay) in a Tyumen' prison in Siberia who was a well-known antagonist of the Soviet Regime, and sopported the remacable Russian poet Andrei Voznesenskii when this poet was out of fovour.
His teahers were a celebrated mathematician B.N. Delone (Delaunay)(a student of an outstanding Russian mathematician P.L.Chebyshev (=Tchebyshev)) and a famous physicist V.A. Fock .
| | |
| --- | --- |
| B.N.Delone | P.M.A. Dirac, L. Infeld, V.A. Fock |
In 1959 A.D.Alexandrov and V.I.Smirnov founded the Leningrad Mathematical Society (since 1991, St. Peterburg Mathematical Society).
Currently, the Russian Academy of Science has three Members from the Leningrad Geometric School: A.V.Pogorelov and Yu.G.Reshetnyak.
Alexander Danilovich Alexandrov, the founder of the School, died on July 27, 1999, 4.00 (Moscow time).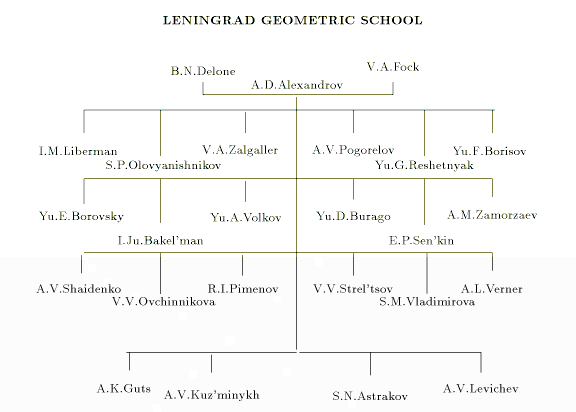 The Alexandrov's Biography and Photos
Another pages about A.D.Alexandrov

---
Main research areas of the Leningrad Geometric School
---
intrinsic and extrinsic geometry of convex surfaces;
manifolds of bounded curvature in the sense of A.D. Alexandrov;
theory of elliptic differential equations;
generalized Riemannian spaces;
foundations of Special and General Relativity;
mathematical theory of space-time.
LGS has very good contacts with the Moscow Geometric School of Vladimir N. Efimov. In the West a similar geometric area is the school of H. Busemann (Poland-USA).
The geometric ideas of Alexandrov helped in brightening the talent of Viktor A. Toponogov who is a pupil of Abram Il'ich Fet and leads the Russian research in global Riemannian Geometry.
---
Novosibirsk and Chronogeometry
---
A.D. Alexanrov arrived in Novosibirsk in 1964. Here he began his research into the mathematical theory of space-time. He created a new area, Chronogeometry. A.D. Alexandrov and his students (see a photo below) found many interesting results. There was a special seminar on "Chronogeometry" (Russian, koi-8).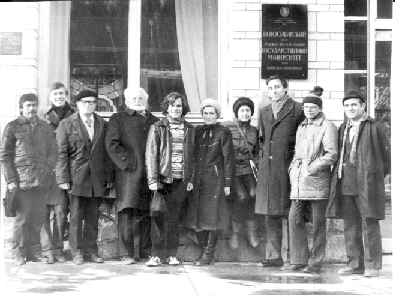 1985. S.V. Astrakov, A.V. Levichev, Yu.F. Borisov, A.D. Alexandov, V. Pustovilin, ?,
A.V. Shaidenko, A.V. Kuz'minikh, A.K. Guts, I. Mazmanidy (from left to right)
The list of west scientist working in a similar area includes A.A. Robb (1914), H. Busemann (1967), C.E. Zeeman (1964), H.J.Borchers and G.C.Hegerfeldt, J.A. Lester, W.Benz, P.G.Vroegindwey and others.
---
Address: Dr. Alexander K. Guts
Chair of Mathematical Modelling
Department of Mathematics
Omsk State University
644077 Omsk, RUSSIA
guts@univer.omsk.su - Click here to send email now!
Counter was mounted: April 27, 1998
Site was founded: April 1997
---