By 1900 to Omsk on a level of development has become quite theatrical city and had the right also all bases to be put forward in a number first on theatrical culture of the centres of Western Siberia.
It could "to sustain" the whole season any solid drama troupe.
But to build serious work on to base unadapted for theatre of casual scenic platforms, like a hall of public
Assemblies, war of an arena or even "sichkarevki", it was impossible.
First of all it was required to solve the problem on a special premise.
The necessity to have the constant professional theatre, has become indisputable for all the advanced people of Omsk, except for " of the fathers of city ", i.e. members of Urban Duma.
Even May 3, 1894, as informs a magazine "Actor" (N% 38, 1894), occured meeting of the members Omsk drama society, on which was decided(solved) to arrange some performances for
formations of fund on construction of a theatrical building. However means from these performances hardly has sufficed
on repair of an arena to the following season, and the idea on construction of theatre has remained not carried out.
During the report of a drama society, take happen place on February 27, 1896, this question again has become on the agenda.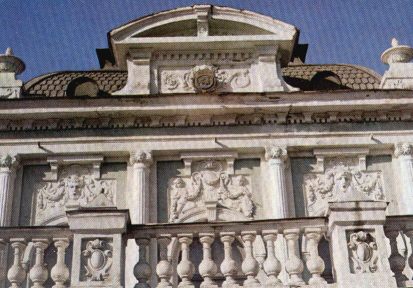 " The Steppe edge " 8 february has placed that of year the detailed protocol of this session, on which the chairman of a drama society has brought in the offer - to construct new theatre on means of the loan, with assistance of Urban Duma.
" Really city in this important business will not submit a hand of the help? - the correspondent " Steppe appeals edges ". - Omsk has almost 40 000 inhabitants and in it is not present any decent public building - neither club, nor hall, theatre! "
But the Urban Duma has not submitted a hand of the help. It has not supported attempts and private the businessmen.
Only after three years at session from February 17, 1898. The urban Duma has recognized, at last, necessary the device in Omsk of urban theatre. " In view of insufficiency at cities of means on construction it can be assigned no more than 100 000 roubles. Money these can be acquired by means of the loan in one of credit establishments
If at theatre to arrange three or four shop, those at an existing now rent payment on them will bring the income from 5 up to 6 thousand roubles per one year.
It will enable not only to make from the incomes of theatre payment interests, but even to repay a duty ", - is spoken in the protocol of session of Duma.
The special commission was allocated led by a urban head Ostapenko, with which it was entrusted to select a place for construction of theatre, to make the project and estimate of construction.
May 15, that is in two months, the commission has determined, that " by the most convenient place for
Construction of theatre would be market the area... and theatrical the building should be arranged on 800 the spectators with front stalls not less than 300 places, with two circles of boxes, except for boxes, with three exits with facade of the party and two from the back party. At theatre there should be by foyer, a buffet, room for cash department,
cloak-room and other auxiliary premises...
The drawing up project and plan of theatre follows, in opinion of a commission, to offer local to architectural forces, by announcing for this purpose competition. Term for performance of the projects to nominate not after October 1, 1898.
The urban Duma has agreed with opinion of a commission and has given it wide powers and complete freedom of action, with which members of a commission, as we shall see subsequently, and not to take advantage in the interests.
After three years - July 8, 1901 - in Omsk the solemn bookmark of new urban was held theatre.
The construction it last more than four years. By the responsible executor and observer for all construction of theatre nominated the engineer Hvorinov - for reward at the rate of 4 percent from cost of construction.
In middle of 1905, at last, Hvorinov has ordered to take off woods.
Before omsktion the large two-storeyed stone building, constructed on a sample has grown metropolitan theatres. Beautiful, in strict proportions a facade, with an outstanding forward entrance. Above by entrance the open terrace and same, but is less a little, balconies above lateral service by inputs. A small dome above auditorium surrounded towers on angular ledges of a building,
crowned a stage.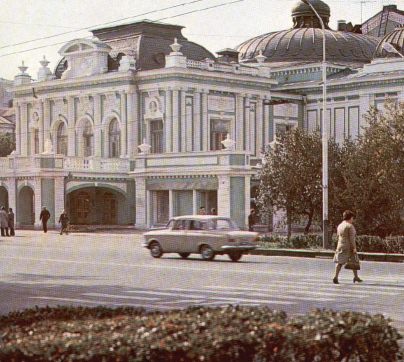 The intricate lines of late baroque were emphasized by a circuit pilaystr, going around of all theatre, and easy ornament balustrade's on balconies of the second floor. On a roof and on balconies
splendour a figured vase, and on walls were allocated ornament. Between pilasters on a facade in two deep niches the busts of the great Russian writers - contemporaries Chehov's and Tolstoy's.
Appearance of theatre exceed all expectations waiting.
After irkutsk four-storeyed of theatre on 1 000 places, which construction was finished in 1987 also has done without more than in 300 thousand roubles, Siberia did not see yet such solid and beautiful
theatrical building.
Omsk theatre offered the services a little popular and uncommon provincial entrepreneur. Among them and familiar already to Omsk P. P. Medvedev . However, Urban Duma has stopped on E. M.Dolin, on responses of press, well recommending itself in Archangelsk.
At last, has stepped long a waited day. " Dear invention of the Omsk fathers of city, moving tortoise-shell at a walk almost 5 years, was carried out ", - the correspondent of " Steppe edge " writes. October 24 the new theatre has opened a season by an immortal comedy Gogol's "Auditor".