Home Page of Tatyana Subocheva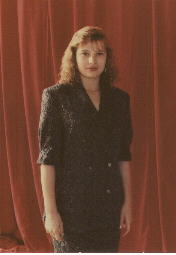 ---
My name is Tanya.
I was born on the 21 of june,1977.
As for my family,it is not large.
There are four of us: a father,a mother,a sister and me.
We love each other and try to help each other.
My sister's name is Sveta.
She is younger than me.
Nowadays Sveta is a schoolgirl.
She likes reading and swimming,too.
In the summer my family likes to go resting in nature.
I am in my fourth year in the Physics faculty of Omsk State University.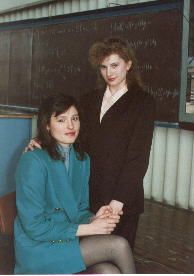 The Physics department is one of the largest in our University.
The full University course lasts five years.
During this period of time a physics student takes 3 years of general courses
followed by two years of specialized training in some field of physics.
Especially I am interested in theoretical physics.
My supervisor is Vershinin Georgyi Anatolevich.
This year I study the proccesses of diffusion in non homogen mal substances.
The syllabus offers a wide range of specialized courses.
There are etics,psychology of intercourses,familys attitudes and the like.
I like very much studing at the University.
In spare time I like to watch T.V., to draw,to sew,to dance,to go to the cinema,
to the theatre,to the concerts and go for walks with friends.
I like sport.
From 7 to 17 years I was occupied with callisthenics.
I am master of sports. Nowadays I like to go swimming.
In winter I go skiing.
I like reading fiction.
My favourite Russian writers are Dostoevsky, Lermontov, Gogol and poet Pushkin.
I like classical music very much.
I would like to go round all world.

---
My address:
Tatyana Subocheva
Physics faculty
Omsk State University
pr.Mira,55-a
644077 Omsk
Russia