---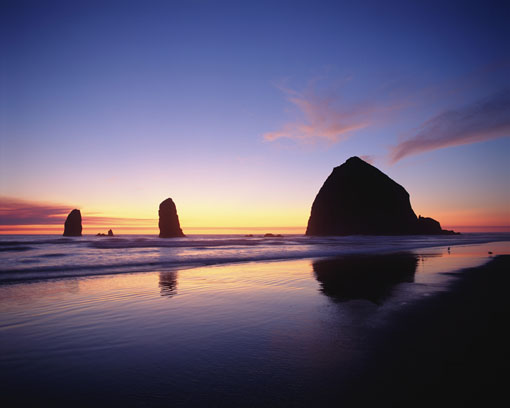 forward
Irtish . You standing at the river , watching the wavy floods , which so free and restful . The voices of past arise from river : hum of battles , prisoner's scream , and full of pain long settlers song and mighty sounds of "On the wild riverian of Irtish " song .
And behind them you hear the rattle and hum of today's life . Your mind can see what happens here today and put you into heavy thoughts about old Chechov's words : " What a full , clever , bright life will shine this riverian in future ..."
---
It's a 1-st block of Omsk State university , where students of mathematical ( like author of the page) , phisical  and chemical faculties are study . Maybe something like this A. P.Chekhov had in mind , writing about " full , clever , bright life  ... "  
---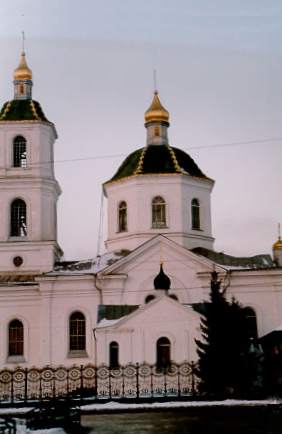 forward
backward
It's most wonderfull at night , when you walk to this place along the lighted road ....

---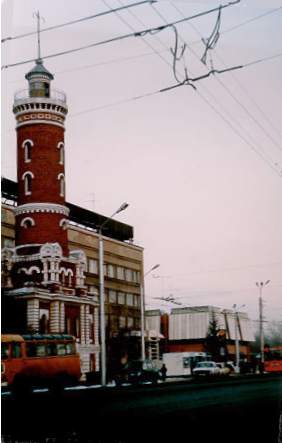 forward
backward
The old fire-tower . It's one of the oldest buildings of Omsk .There was a beautiful sight of burning city for firespotters from it . Now it's just a memorial because of post , which made impossible this watching .
---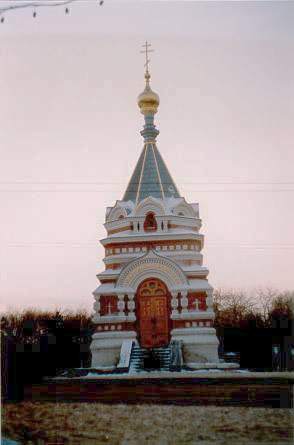 forward
backward
There is a chapel near the bridge above Om' river , closely to the place where Om' and Irtish become  one river .
Sometime the chapel was destroyed , and only in recent times it was rebuilded again .

---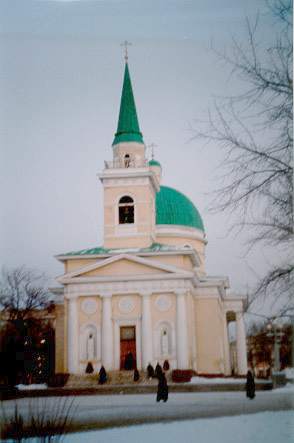 forward
backward
This is  Nikolsky sobor , that was builded  in 1833-1840 in Omsk by project of great russian architecture
 V.N.Stasov .
The park around this sobor is one of the my lovliest places of Omsk .

---
return to beginning of the album
---
By making of this page were used :
author's  own photos ( except " the river") ,
"OMSK.Sketches of Omsk's history" - work of M.K.Urasova .
---
@ my album 20.12.98
---