Russian
English
---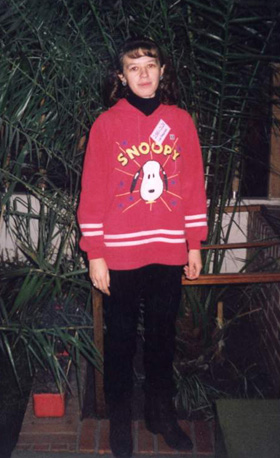 Hello!
My name is Lena. I live in city Omsk. I am in the mathematics department of the Omsk State University. Now I am in its fifth year. I learn the Galton-Watson branching process. Professor V.A. Topchiy is my supervisor.

My the largest hobby is computer, of course. I like computer games. I spend my all free time to them (Heroes of Might&Magic II, Wizardry, MUD-games).
Also my hobby are knitting and crochet-work. In my opinion "Sandra" is the best magazine.
Also I like the music. Last time I prefer Metallica, U2, Depeche Mode, Guns'n'Roses.
I don't like TV absolutly. But I try to look some sport telecast such as football and Formula-1. In Formula-1 I am the fan of McLaren.

There are some links. In my opinion that pages are interesting enough.
The home page of my school computing teacher
Shelikhov O.Yu.
The home pages of my Fido friends:
Oleg Pavlovsky.
The site where you can to make a subscription and to read news about Formula-1 in russian.

Well , that is all. Write me letter.
Mail to: lena@promex.ru

---