Aleksandr Chupirov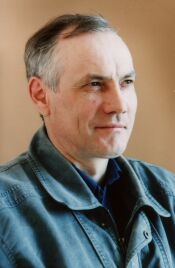 Senior teacher of Chair of experimental physics
Born August 3, 1957.
Graduated from Omsk State university in 1980.
At Chair he works since 1984.
Area of scientific interests: I.T. technology, radio communication.
For a present day he concerns with a scientific problem: Heat field of torchlight concerns with the condense phase.
Hobby: Fishing.
Loved time: Summer, because heat and short nights.
Loved holiday: New year.
What on Your view must an ideal student be: Eager to get to know more than give. Session upon the terms. Active life position.
What quality in folk You like: Professionalism in the broad sense.
e-mail: chupirov@mail.ru
644077 Russia
Omsk
prospekt Mira 55à
Omsk State University
Chair of experimental physics