---
NIKOLAY NIKOLAEVISH MISUROV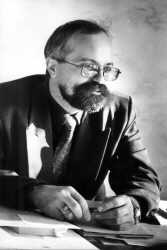 ---
Chairman of Philological Department
Candidate of philological sciences, assistant professor.
Finished Philological fakulty in 1980.
Protected a candidate's thesis in the Leningrad state university in 1987.
---
Area of scientific interests:
- German romanticism.
- Russian- westeuropean literary relationships and influences.
- Types of the literary development.
- History of foreign literature and russian classicists.
- National idea in the culture.

Hobby and fascination: :
- Artistic photography.


- Cactuses.
- Guard;keep Folk of the world.
- A Theatre.
- Blondes.

---
NIKOLAY NIKOLAEVISH MISUROV Chair of Russian and Foreign Literature
Department of Philology
Omsk State University
644077 Omsk
Russia
---