---
LUBOV NIKOLAEVNA GRIDNEVA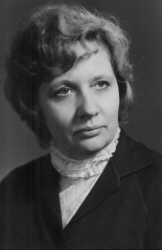 ---
Candidate of philological sciences, assistant professor.
Finished Ural State University in 1952..
Finished a graduate school of Moscow state pedagogical institute in 1965.
Protected a candidate's thesis in the Leningrad state university in 1966.

A title of associate professor one has got in 1967.
---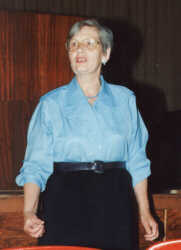 ---
Area of scientific interests:
- Spoken public
- Ancient russian literature.
- Literature XVIII age.
- The Tide searching the literature before XIX age.

Hobby and fascination: :
- A Needlework.
- Preparation guard;keep.
- Love For the order.

Scientific it is works List and publications:
Has more than 30 publications, amongst them collections under its editing.
---
LUBOV NIKOLAEVNA GRIDNEVA Chair of Russian and Foreign Literature
Department of Philology
Omsk State University
644077 Omsk
Russia
---