---
EKATERINA PETROVNA BARANOVSKAYA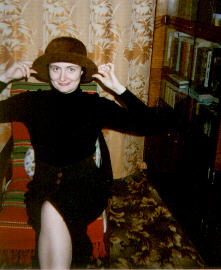 ---
Assistent of Russian and foreign literature pulpit.
Graduated from philological faculty of OmGU in 1994.
---
Area of scientific interests:
German romanticism, Gofman.
Filosofy Scovoroda.
Filosofy of Name (Florensky).
Filosofy Persons.

Hobby, fascinations:
Antique dolls; Nursery photography; old-time german postcards.
Nonmy cinema.
18 ages.
German painting: Durer; K.-D. Fridrich
Scandinavian literature.
All on Mozart

E.P. Baranovskay Studies:
   Romantic home feeling N.Gogol's creativity;
"Golden Copf" Hoffmana in context of Platon myth.
Letters and Voice of A. Bashmachkin or once again about   secretof     the      Gogol's " writing officer;.
Luminescence from the pen and the paper : Gogol's "Overcoat" secret.
Gogol's" Overcoat" : finding of a "secont skin", "place","home".
Face as "the words aggragate": N.Gogol and P. Florensky.
E-mail : f43 Baranovs@phya.omsu.omskred.ru
---
EKATERINA PETROVNA BARANOVSKAY Chair of Russian and Foreign Literature
Department of Philology
Omsk State University
644077 Omsk
Russia
---