</P>
---
Evgeny V.Khomich
---
---
---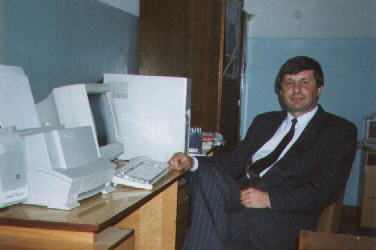 Birthday 12.01.1951
Graduate of Tomsk Institute of Automatized Systems of Manage and Radio electronics in 1972. Profession: Radio-technics. Qualification: Radio-engineer. Post-graduate (by correspondence) in 1984. Ph.D. in Technics.

Director of Engineer Centre "Automation".
Academic rank:
docent.
Scientific interests:
Radiolocation and Radionavigation, algoritms of treatment of Information.
Mathematics Simulation of Radiosystems.
Figure Connection by microwave Radiocanals, Projecting of Systems.
Algoritms of automation Manage.
---
Address:
Department of Mathematics,
Omsk State University,
Pr. Mira, 55-A,
644077 Omsk, RUSSIA