Alexander A. Kolokolov
Doctor of Science, Ph.D., professor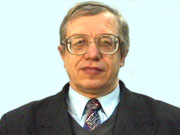 ---
In 1964 has enterred on mechanical-mathematical faculty of Novosibirsk State University, which has graduated in a 1969. At university there were main scientific interests: discrete optimization, integer programming, operations research.
After the graduating university I worked in scientific institutes at Novosibirsk. Now I work in Omsk State University and in Institute of Information Technologies and Applied Mathematics (department of an operations research).
For today is published about 100 scientific works . Except for scientific activity I give significant attention of public activity, main direction here - Omsk House of the Scientists, which chairman I am. The House of the Scientists is a public organization, which activity is directed on integration of all scientific public and conditioning for creative cooperation of intelligency. The important role in our work has scientifically - enlightening activity - realization of various seminars and conferences.
Some words about my daggings. I very much love photographing, slides, fine art, I love music (diversified - classics, romances, author's song, modern music), very much I love to sing.

e-mail: kolo@iitam.omsk.net.ru , kolokol@univer.omsk.su
math faculty, Omsk State University, Mira st.,55A, Omsk, 644077, Russia
òåë.: 8(3812) 236739, 8(3812) 234584
Mathematical cybernetics, theory and methods of optimization, operations research, discrete optimization, integer programming, mathematical methods in economy planning, management, sociology and other areas, evolutionary processes, cover and packing problem, problem of accommodation, problem of optimization on the graphs, problem of routing.

P.S. (from the author of page): À.Kolokolov is by one of the outstanding Omsk scientists the leading expert in the field of methods of optimization and their appendices. To the present moment it is possible to speak about Omsk school of the optimizers, which has developed around of the professor Kolokolov.

Publications
Kolokolov À. About number of cutting planes in first algorithm Gomory// Problems of the analysis of a discrete information.- Novosibirsk, 1975.-p.84-96.
Kolokolov A.A. On the L-structure of integer linear programming problems// System Modelling and Optimization. Proceedings of the 16th IFIP conference on the modelling and optimization.-Springer Verlag, 1993. - P.756-760.
Kolokolov A.A. Decomposition Algorithms for Solving of some Production-Transportation Problems// Triennal Symposium on Transportation Analysis II. Preprints. Vol.1.- Capri, Italy,1994.-P.179-183.
Kolokolov A.A. Some L-class enumeration algorithms for integer programming problems// Proceedings of the 3rd IFIP WG-7.6 Working Conference on Optimization-Based Computer-Aided Modelling and Design, Published by IITA, Prague, Ñzech Republic, 1995.- P.256-260.
Eremeev A.V.,Kolokolov A.A. On Some Genetic and L-class Enumeration Algorithms in Integer Programming//Proceedings of First International Conference on Evolutionary Computation and Its Applications. Mosñow, Russia, 1996.- P.297 -303.