---
Omsk State University
Division of history and theories of religion
---
Natalia N. Vorobiova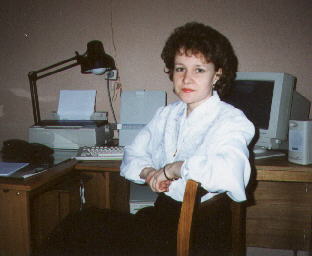 Occupied job: assistent
Graduated Omsk State University, history department in 1992.
Area of scientific interests:
problems of archaic consciousness;
historiography of myth;
history of religious art (Antiquity, Byzantia, Ancient Russia);
problems of religious art and aesthetics (symbol, image, canon, iconography).
Developed a course of lectures "Aesthetics and religious art". For a given moment to educate in the postgraduate course, work on the candidate's thesis.

Publications:
Vorobiova N.N.Soviet literature on the myth 20 - 40-th XX age. ( methodological aspect). // Yadrintsev`s readings: materials of XVI scientific student conference. Omsk, 1994.

Vorobiova N.N. Methods of archaic culture study in the works O.M.Freidenberg and V.Y.Proppa // History yearbook / Under the editing of A.V.Yakuba. Omsk : Omsk state university, 1996.

E-mail :
---
Adress: Division of history and theories of religion
Omsk State University
Pr. Mira, 55,
Omsk, 644077.
---
Designer: Moiseeva Yulya
Last change 05.19.98.