---
Omsk State University
Division of history and theories of religion
---
Alexander S. Alexeev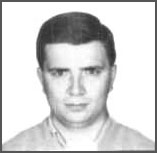 Occupied job: assistent.
Graduated Omsk State University, history department in 1995. Area of scientific interests : orthodoxy, moral and dogmatic theology, history christian church, isihasm, Byzantium , the Middle Ages.
Studying lifes and creative works of L.Tihomirov, St.G.Palama, A.P.Lebedev and Moscow history school MDA.

Publications:
Political isihasm // scientifical article in collection Social institutes... publishing an Omsk State University,1995.

Private telephone: (3812)357-397.
E-mail :
---
Adress: Division of history and theories of religion
Omsk State University
Pr. Mira, 55,
Omsk, 644077.
---
Designer: Moiseeva Yulya
Last change 05.19.98.